For the love of Coffee Oreo ice cream
In the shadow of Sterling Memorial Library's stacks, nestled among Mory's, Toad's Place, and Yorkside, the warm red glow of a neon ice cream cone illuminates the window it hangs in. There, on bustling York Street, Ashley's Ice Creamhas found its home in New Haven. Touted as a must-have among alumni visiting campus, their signature Coffee Oreo flavor has earned its place among other favorites like Claire's Lithuanian coffee cake and Atticus' black bean soup.
If anyone knows ice cream, it's Nan Rohrer '96, who spent her childhood growing up on a dairy farm. "I love Coffee Oreo and have never found a comparable one in all of my ice cream travels," Rohrer said. "We're huge ice cream people, like ice cream at every meal."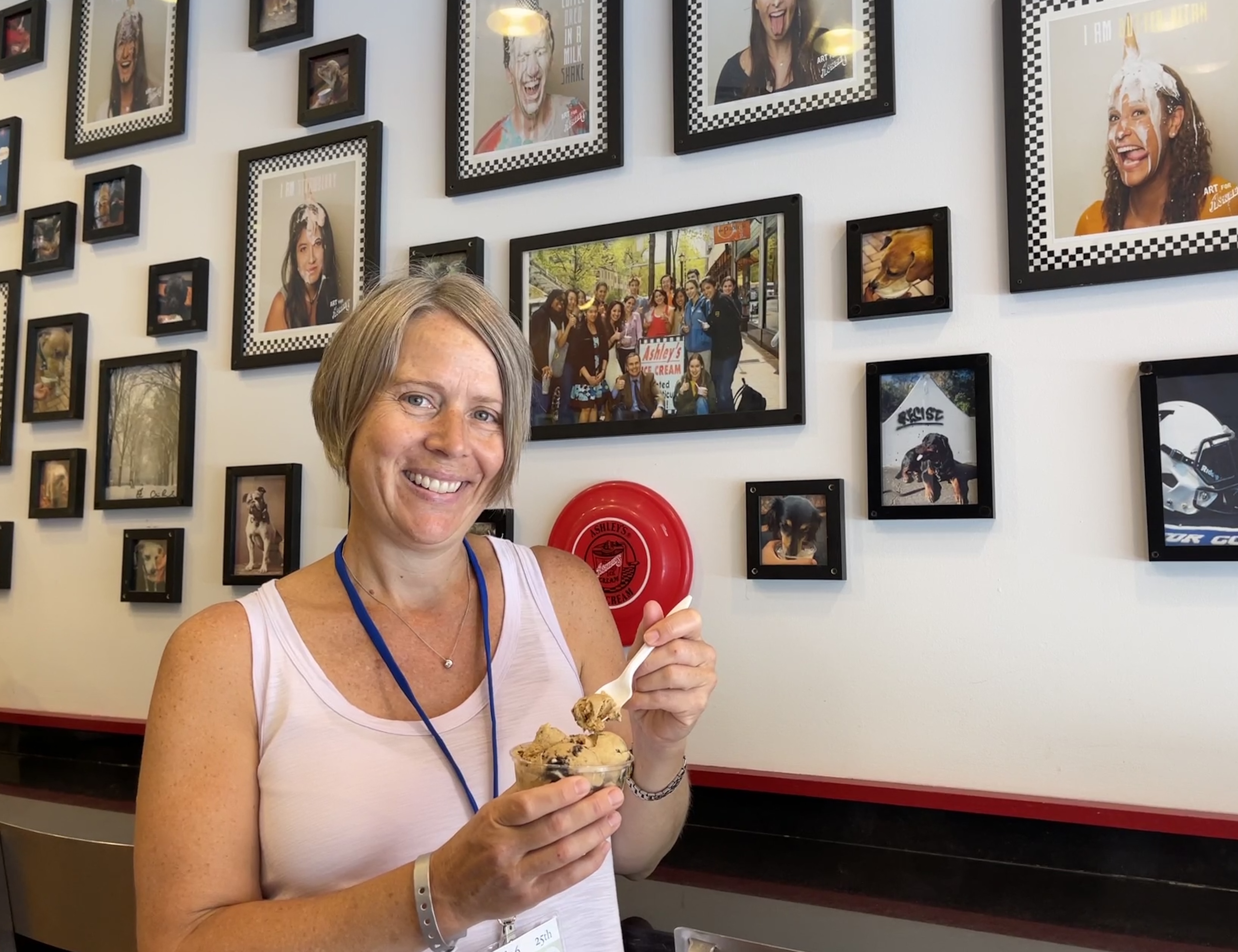 Nan Rohrer '96 enjoys a scoop of Coffee Oreo ice cream inside the York Street location
Rohrer first discovered Coffee Oreo when her older sister began studying at Yale. During one visit, her family explored New Haven with a friend named Ashley. Destiny struck when they stepped inside the ice cream parlor of the same name.
"Where we were from, they didn't have Ben and Jerry's. There was no Coldstone or any of these," said Rohrer. Upon seeing Coffee Oreo written on the board, "it was like, oh my gosh! We all love coffee and we all love cookies."
When Rohrer later came to campus as a student herself, her room in Trumbull College included a tempting view of Ashley's.
Lizzie Rosenthal '99 loved the flavor so much, she celebrated her graduation by bringing her whole family to sample it. "Ashley's Ice Cream is so intertwined with Yale — as much as Claire's Lithuanian coffee cake — those were the sweet treats of my college years," Rosenthal said.
But what exactly makes that flavor pairing so special? Rosenthal thinks the key is in the cookie choice. "The crunchy cookie chocolatey-ness that the Oreos add to the coffee ice cream gives it the perfect balance in a way that I don't think chocolate chips do," she said.
Ashely's co-owner Brian Anderson knows that there is magic behind the ice cream. "We do a lot of coffee variations, but Coffee Oreo is still our number one flavor," he said.
"Every day there's people that come in here and they stare at that board," Anderson continued. "They say, 'I'm trying to try something new, but I know I'm going end up with my favorite.' And in my head, I already know they're going say Coffee Oreo."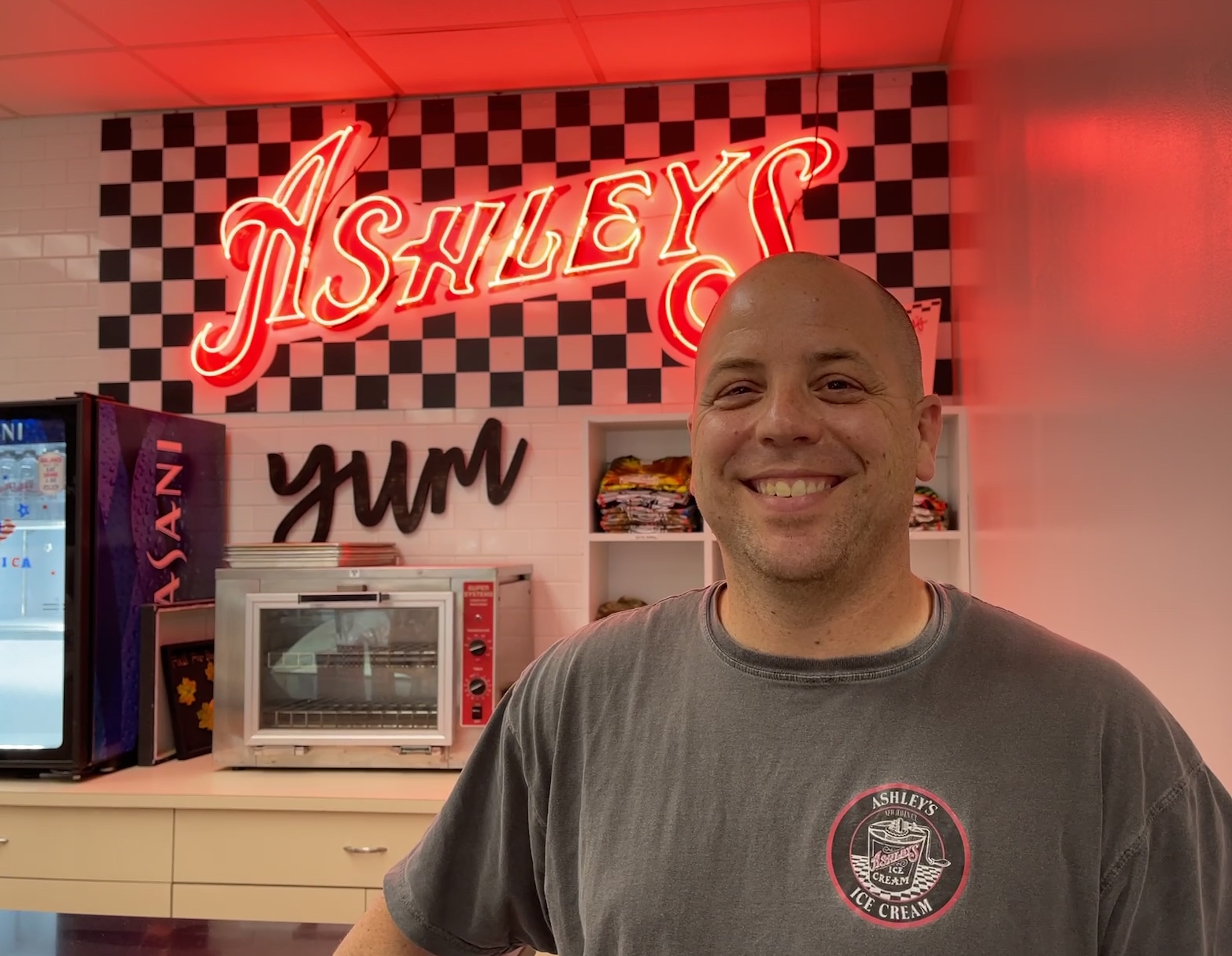 Co-owner Brian Anderson at Ashley's Ice Cream Branford, Connecticut, location
But how did this standout flavor come to be? According to Anderson, fans have the happiest of mishaps to thank. Ashely's was known for making coffee ice cream right from the start. Looking to develop new flavors in the 1980s, the store introduced Oreo as a novel flavor and its popularity soared. One day, with plans to churn its two most popular flavors on the only machines in its manufacturing facility, employees loaded crushed Oreos into the vanilla base … or so they thought.
"It was an accident!" Anderson revealed. In fact, the staff had poured the cookie bits into the coffee base instead. "We decided, well, why not? Oreo and coffee, that's wild. Put it out. And it was a hit right away."
Perhaps part of the magic is the exact coffee used to formulate the flavor. Rumors abound among alumni that the recognizable taste might be Willoughby's House Blend. "We have used Willoughby's coffee to make coffee variations like our Kona flavor. But our daily Coffee Oreo? That is a closely guarded secret," Anderson said. "But, it is caffeinated!"
Ashley's hasn't always been a New Haven staple. Named after Ashley Whippet, a dog known for her frisbee-catching abilities, the first storefront officially opened in 1979 and was originally located on College Street. It wasn't long after that the York Street location, now the New Haven flagship store, opened.
Jeanne Devine '72 completed her studies before either location opened, giving her all the more reason to sample Coffee Oreo when she returned to campus for her 50th reunion.
"I had anticipated this moment ever since I read about Ashley's in preparation for the reunion," Devine said. "I was prepared to be wowed, and I was."
Devine's first visit was even more meaningful as she was joined by her granddaughter, who is named Ashley. "I would have been a frequent patron of Ashley's if it had been in business in 1969-72," she said. "I'm ever so glad I learned about it in advance of my reunion, when accompanied by my granddaughter."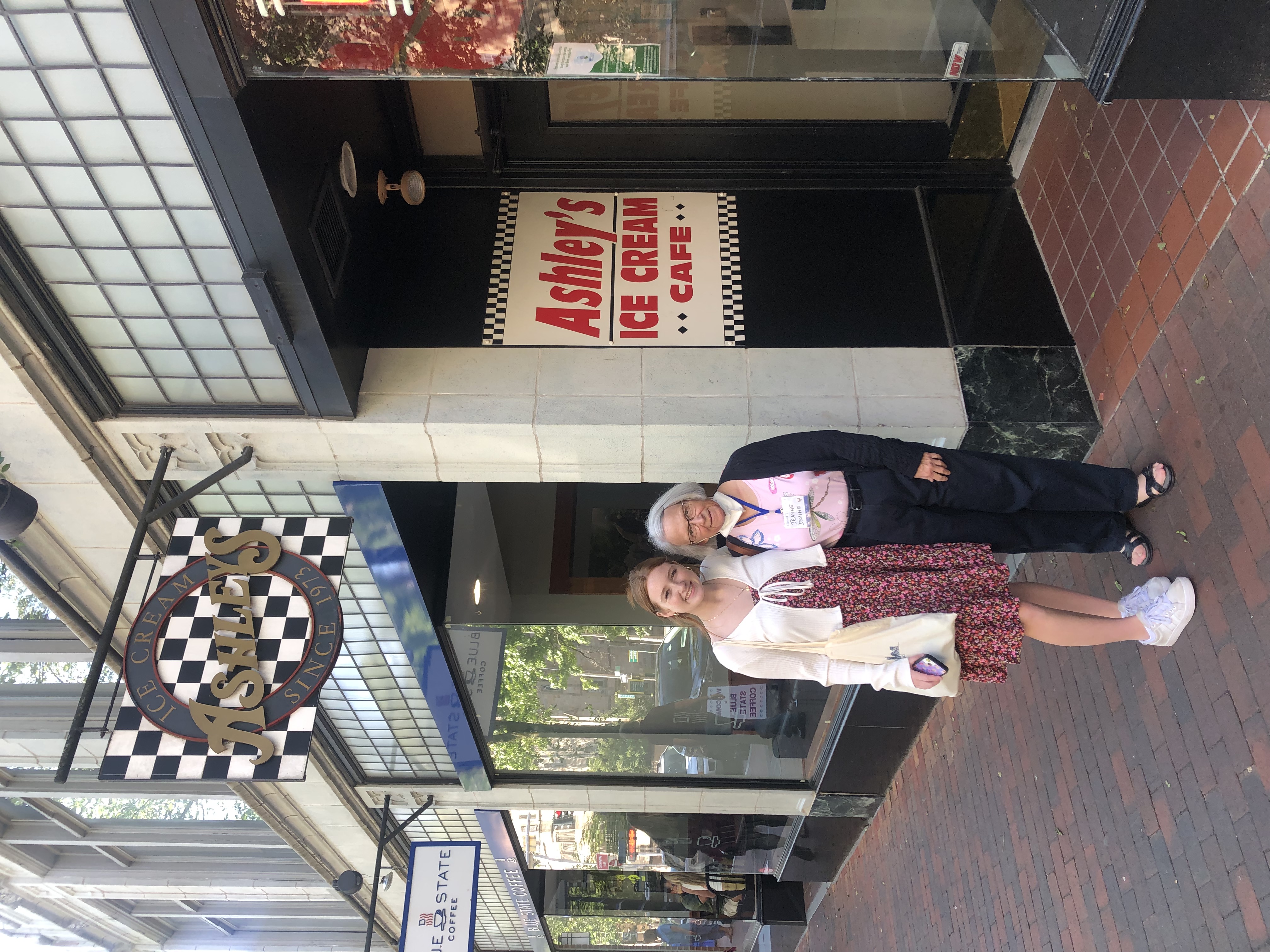 Jeanne Devine '72 and her granddaughter Ashley
But the alumni community's connection to Coffee Oreo might have gone unnoticed if it weren't for a personal account from Hannah Mark '25 that was published in the Yale Daily News earlier this year. In the piece, Mark revealed how a mutual appreciation of Coffee Oreo ice cream was one of the ways she felt connected to her father, David Mark '93. Her account was shared in an alumni Facebook group, and it wasn't long before Yalies from around the world began reminiscing about their shared love of Coffee Oreo.
"I honestly didn't know what kind of a response Coffee Oreo would elicit," Hannah Mark said. "For me, Coffee Oreo is the flavor of nostalgia. My first visit to Yale's campus ended with a visit to Ashley's for a scoop of the flavor. It helps me feel connected to my dad and family even when they are thousands of miles away from campus."
Mark's writing cut across that distance as her parents read her story while on their way home in Montana. "I was pretty astounded, teared up immediately, and was filled with a profound sense of gratitude," said David Mark. "When it comes to Coffee Oreo as symbol, I had no idea. But it makes complete sense to me."
It was during his time at Yale that Mark and his roommate, Matt Aiello '93, became good friends with one of the employees at Ashley's Ice Cream. "Over the course of our senior year, we were the happy recipients of what must have totaled gallons of free ice cream!" he said.
Coffee Oreo still holds a special place in his heart — "It's a rare treat that historically would instantly transport me back to my days in New Haven," he said — and, now, that appreciation has been strengthened by the connection he shares with his daughter.
"She describes the flavor as being elusive and exceedingly valuable, which is precisely how I feel about my own journey," said David. "I have been blessed beyond measure to be surrounded by an amazing family, in a beloved community, with the opportunity to put whatever gifts we've been given into service, hopefully for the good.
"It's an exquisite privilege, for which I'm deeply grateful. Kind of like that glorious Ashley's masterpiece."
Original Article in Yale Alumni Magazine